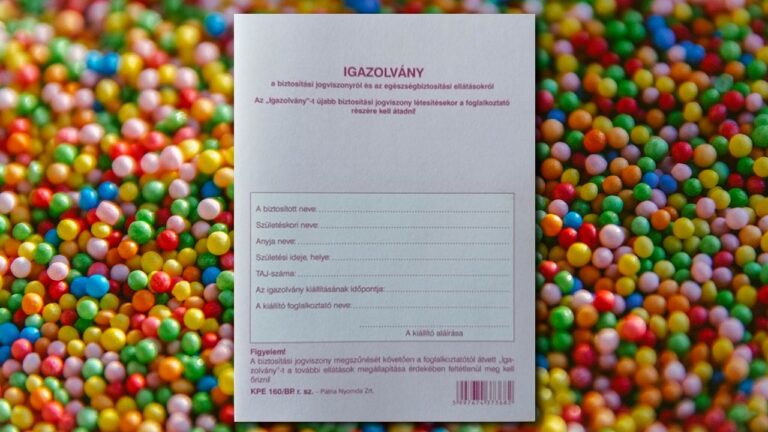 If you are working in employment in Hungary, you have a social security booklet to your name that contains information about your insurance status. If you are working your first job, you have probably never seen it, and you will not see it until your last day at your current employer.
Your Hungarian social security booklet
When you first enter employment in Hungary, your employer starts your social security booklet or health insurance booklet ("TB kiskönyv"). It is also called pink booklet ("rózsaszín kiskönyv") for its color. It is in fact a long piece of paper folded to resemble a booklet, which employers can purchase in stationery shops.
Your first employer will fill in your data, most importantly your name, your Hungarian social security number, and your first day of employment. If you take a sick leave, it will be registered there too. When the employment relationship is terminated, your last day of employment will be added, and you finally receive this document together with your other exit papers.
In any case, your information is also registered in the online database of NEAK, the National Health Insurance Fund. Your booklet exists as a security measure, to have a personal, offline proof of your social security status as well.
What do I do with my health insurance booklet?
You have very little to do with your pink booklet. Only your employers are supposed to enter any data. Your first employer issues it, and they keep it safe and up to date as long as you work for them. You will only see it once you quit, but you will have to submit it to your next employer as soon as you start working there.
Submitting the social security booklet to your new employer is not optional. Your new employer is supposed to register your employment in the booklet within three days after your first day. As a result, it is your responsibility to get it back from your previous employer.
If you cannot get the pink booklet back from your previous employer for whatever reason, you have to make a declaration that you are not in possession of it. Upon receiving that, your new employer can start a new booklet for you. This has to be done within 30 days after your first day.
What if I get a side job?
As a third country national who has residency based on a work permit, you cannot get a side job with a work permit, since your residency is tied to your employment. You can become self-employed, but that does not have to be registered in your pink booklet.
If you already have permanent residency, which allows multiple jobs, the second employment must be registered in the social security booklet too. For that purpose, you have to ask your first employer to lend you the booklet so you can take it to your second employer, who will add their information to the booklet. After this, you take the booklet back to your first employer. The health insurance booklet stays with the employer who employed you first.
Helpers Hungary offers administrative assistance to foreigners living, working, and doing business in Hungary. The social security booklet is not something you will need help with, as it is handled entirely by your Hungarian employer, and you only take on the role of mail carrier between jobs, transporting the document from one employer to another.